Assessment Consultant – joyce chapman

Joyce Chapman is the Assessment Analyst & Consultant at Duke University Libraries, where she plans and conducts assessment and analyzes data to evaluate operations and understand user needs. She previously worked as the Consultant for Data Analysis & Communication at the State Library of North Carolina, where she assisted libraries across the state with data analysis, data presentation, assessment, and advocacy. Prior to that, she was the Project Manager for the large-scale digitization grant, "Content, Context, and Capacity" at the Triangle Research Libraries Network. Joyce received her MSIS from the University of North Carolina at Chapel Hill in 2009, and served as an adjunct instructor in the Digital Libraries track at North Carolina Central University's School of Library & Information Science from 2013-2018. Joyce is the co-founder of the Digital Library Federation Assessment Interest Group.
Diversity and Equity Consultant –  Derrick Jefferson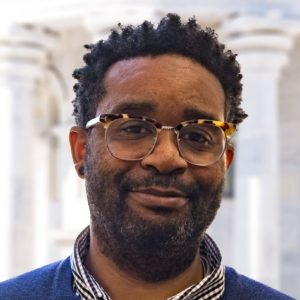 Derrick Jefferson is an associate librarian at American University in Washington, DC. supporting the research needs of the students, staff, and faculty of the School of Communication. He earned his MLIS from Louisiana State University as a Project Recovery scholar, a program funded by an IMLS grant to aid in rebuilding and staffing libraries in Louisiana after the storms of 2005. His research interests include examining identity and diversity and inclusion issues in librarianship and higher education. He is a former American Library Association Emerging Leader and presents regularly at various conferences and colloquiums including ALA Annual, Midwinter, the Medical Library Association, Gender and Sexuality in Information Studies. Recent publications include contributing a chapter to "The Subject as Self: Autoethnographic Research into Identity, Culture, and Academic Librarianship". In his spare time, he enjoys collecting records, creative writing, and making and consuming tacos.
Privacy Consultant – Myrna Morales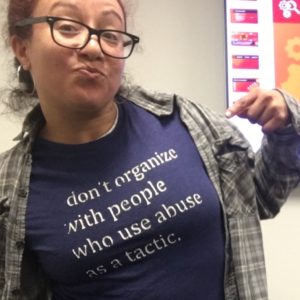 Myrna E. Morales is currently running communications for the Massachusetts Coalition of Domestic Workers and a PhD candidate in Library and Information Science at the University of Illinois iSchool.  She was program and Communications Director for Community Change, Inc., an organization dedicated to organizing white people to combat structural racism. She has an MA in Teaching from Brown University, an MS in Library and Information Science from Simmons College and a BA in Urban Studies from Bates College. She spent some years studying medicine and socialism at the Latin American School of Medicine in Havana, Cuba, and working as a public school educator in New Jersey and Boston before working in research data ethics and technology management for the National Network of Libraries of Medicine, New England Region.
A longtime activist and organizer, Myrna fights for social change across a spectrum of different social causes. Realizing that the promotion and advocacy of privacy is a critical component to making us truly free, Myrna also works on providing anti-surveillance triage and trainings within community organizations. Her rich background in medical education, education, library and information science and community organizations has helped her understand that information is not only a tool that enables, permits and creates injustices, but a tool that can guide us towards collective liberation.
Accessibility Consultant
TBD
Instructional Design Consultant
TBD